Boston Jane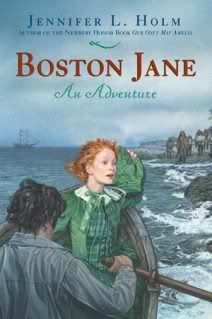 I have a new, very unspecific way of picking my next book to read. I used to just read in the order that I got the book (even though my pile is huge) but I decided to try something new. My 3 year old and 5 year old daughter's pick a random book from the shelf! This was my 5 year old's first pick.
I've had Boston Jane by Jennifer Holm on my shelf for a while. It didn't particularly look like a book I wanted to read but I give all books a chance. And I'm glad I did with this one.
The book was much better than I thought it would be. Jane is a tomboy in Philadelphia in the 1870s and then goes to a finishing school to become a young lady. At age 16, she travels to the Northwest Coast to meet up with her fiancee. However, there is a surprise in store for her there.
I loved Jane's adventures to and in the Oregan territory. I couldn't put the book down. And I found out there are 2 more books in the series, another 2 books on my wish list! I highly recommend this book!