Jack's New Power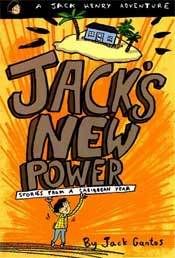 I love the Jack Henry books; they are absolutely hilarious. There are 5 of them and this is the third one I've read.
Jack's family moves around often and during his 13th year, they move to Barbados. Having just visited Barbados last year, it was neat to see various places I've been to mentioned in the book and know generally some about the island.
The books is told in the first person by Jack. He is such a typical boy and gets into all kinds of trouble and has all kind of adventures.
The books are loosely based on Jack Gantos' own childhood. Fun and entertaining.
4/5