Giants in the Earth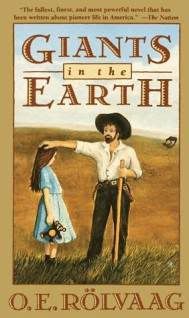 I learned about this classic book after a discussion on a book group about Laura Ingalls Wilder and someone mentioned this book about pioneer life in the Dakotas. The book was written in 1924 in Norwegian by a Norwegian immigrant and later translated to English.
It falls the lives of several Norwegian families setting up a life on the Dakota prairie. I felt this book had a dark undertone, especially with the depression that one woman, Beret, struggled with. It was mostly interesting but some parts were slow too and it took me a month to get through this book. The ending was a little surprising. I thought it was going to end one way but it ended another.
I love historical sagas and although this was not my favorite, I still enjoyed it a lot.