The Kingdom Keepers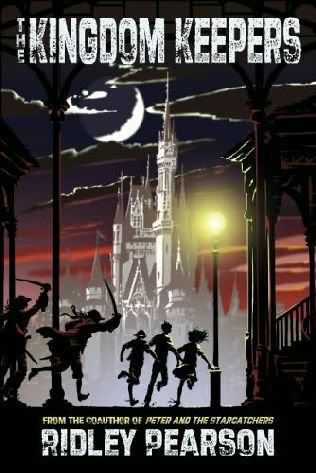 Title and author of book:
The Kingdom Keepers by Ridley Pearson
Fiction or non-fiction? Genre? fiction, young adult

What led you to pick up this book? I love Disney World so I was interested in reading this book that mainly takes place in Disney World

Plot summary: Finn is a 14 (?) year old boy and also a DHI at Disney World, a holographic tour guide. He is having dreams that take him to Disney World after dark. He learns that he and the other DHI must stop the Overtakers from overtaking the park and maybe bigger things.

What did you like most about the book? I liked the scenes that took place at Disney World (mainly the Magic Kingdom and MGM) and on the attractions.

What did you like least? I felt as if I was dropped into the middle of the book when I started it. I wasn't so fond of the writing style and how the action took place. I didn't feel like much was resolved in the book and the ending was left wide open for a sequel (which there is)

What did you think of the writing style? see above

Which of your readers are most likely to enjoy this book? Why? I think those who really like Disney World would like this book. I think it is suited more towards younger teens. Although I do like lots of young adult books, I don't feel this one was written particularlly well

Have you read any other books by this author? What did you think of those books? This is my first. I have Peter and the Starcatchers in my TBR pile. I will also read the sequel to this book since I do want to know where the story is going from here.

Any other particularly interesting characters?
My favorite character other than the main character, Finn, was Wayne, the old Imagineer who helped the DHI's in their quest to overtake the Overtakers
Share a favorite scene from the book: My favorite scenes were when they were on the rides, after closing mainly, looking for clues.

What did you think of the ending? It didn't resolve anything, really, and set things up for a sequel

Do you recommend this book? If you use a rating system, what's your rating? see what I wrote a few questions above, 3/5