Then There Were Five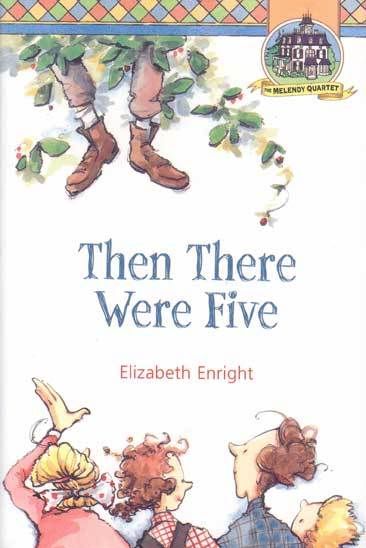 I am going to try a new book review system(adapting it to fit each book) that I found at The Hidden Side of a Leaf, http://deweymonster.com/
Title and author of book: Then There Were Five by Elizabeth Enright

Fiction or non-fiction? Genre? Fiction, children's/young adult

What led you to pick up this book? third in the Melendy series that I am reading through

Plot summary: This book focuses on summer time with the Melendys and the meeting a new friend in an orphan boy, Mark Herron.
What did you like most about the book? I liked all the fun adventures the Melendys had at their house and nearby.

What did you like least? I can't think of anything.

What did you think of the writing style? I like how Enright describes things in detail, especially in the outdooers. She switches between the 4 Melendy children as narrators.

Which of your readers are most likely to enjoy this book? Why? Those who like children/young adult fiction, especially older fiction (this book was written in the 1940s)

Have you read any other books by this author? What did you think of those books? I also read the first two in this series. I am liking each book more and more as I read through the series. I've also read A Thimble Summer when I was a child but I don't remember much of it so I have put it on my TBR shelf to read again.

What did you think of the main character? There isn't one main character in this book. All the Melendy children share the spotlight equally. They are all unique personalities with different interests so it's interesting to read about each of them.

Any other particularly interesting characters?
Mark, the orphan boy is interesting as the stereotypical orphan boy who has to put up with a mean caretaker. I also liked the Melendy's neighbor Jasper, a bachelor, who they made friends with and he helped them with a few situations.
Share a quote from the book:
The sun shining on the breakfast table turned the honey into such dazzling gold that she could hardly look at it. It tasted of summertime and sun and clover. It was a lovely thing to eat.
Share a favorite scene from the book: When the housekeeper, Cuffy, has to leave for a few days and the children are left alone.

What did you think of the ending? It fit the book.

Do you recommend this book? If you use a rating system, what's your rating? yes, I do recommend it 4/5