The No Spin Zone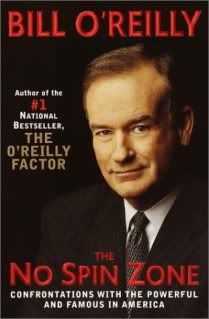 I used to listen to Bill O'Reilly radio show a lot and watch his TV show occasionally but haven't for years. (By the way, this seems the theme for this month-books I've had forever and authors I haven't read for a while). I found his show interesting and while I always didn't agree with his opinion, I respected him for it.
This book is broken up into chapters than can be read out of order as each chapter tackles and issue and deals with a person who's been on his show debating the issue.
I liked his first book but I found him more pompous and arrogant in this book. He seems to brag about how his ideas are right or just about himself in general.